A group of friends of my son from the Westland meets annually for their men's dinner. As a keen amateur cook, I have served them a superb 5-course dinner this year.
Starting with an appetizer of carpaccio with sun-dried tomatoes, followed by a starter consisting of cold cucumber soup with dill, salmon roll on a bed of lettuce and a wrap with Parmaham (see recipe below). For entremets zucchini soup with dried tomato and the main course consisted of veal medallions with mushrooms served with roasted potatoes with rosemary. For dessert, a delicious panna cotta with raspberry sauce. Obviously I have served a different wine for each course.
It was a beautiful evening and was greatly appreciated by the "gentlemen".
Preparation
To make the dressing mix the vinegar, 4 tablespoons of oil, chilli, garlic and parsley. Toast the pine nuts golden brown in a dry frying pan. Cook the beans in 3-6 minutes until al dente and rinse immediately. Mix the beans with the salad leaves, rocket, watercress, pine nuts, cheese, 1-2 tablespoons oil and lemon juice. Place a portion of the salad mixture onto the slices of Parma ham and roll it. Drizzle the dressing over the rolls.
Related salads chosen by others
Baby gem hearts with roasted peppers and anchovy dressing
Average 3 of 5 stars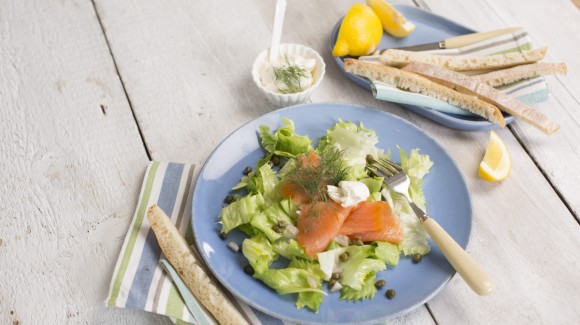 Smoked salmon, endive and caper salad
Average 3 of 5 stars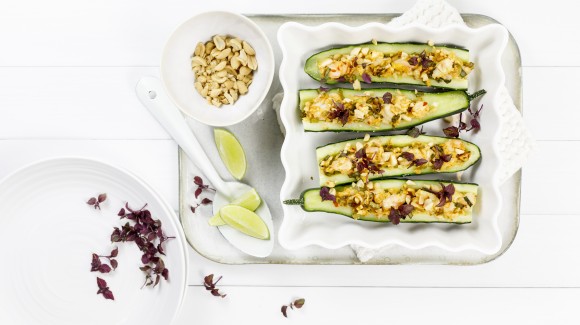 Baked cucumber with crunchy peanut topping
Average 3 of 5 stars