Are you a big fan of sushi and cucumber? Then this is your recipe, cucumber sushi with avocado. Much easier than rolling sushi and preparing the right sushi rice, believe us.
Preparation
Cut shrimps in halves.
Slice spring onion in small rings.
Cut the avocado in small cubes.
Mix mayonnasie with wasabi and crème fraiche into a wasabi mayonnaise.
Next, mix the shrimps with the spring onion rings and avocado together with the wasabi mayonnaise. And bring to taste with some salt.
Slice cucumbers in slices of 2.5 cm and scoop out the seeds with a melonball spoon if you don't have one, use a little spoon. The slices should become cups.
Add the shrimp mixture into the cucumber cups and top with black sesame seeds and the red mustard cress.
Related salads chosen by others
Roasted pumpkin and chickpea hummus
Average 3 of 5 stars
Authentic Greek Tzatziki
Average 4 of 5 stars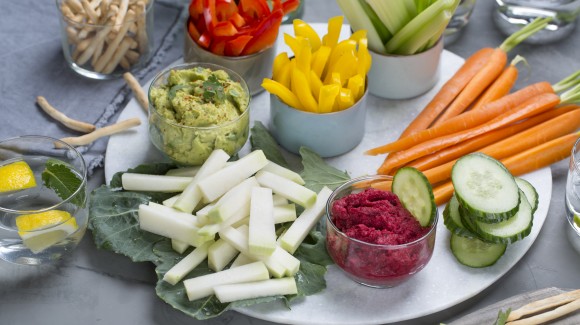 Vegetable snacks with avocado hummus and red beet caviar
Average 3 of 5 stars