I am pleased to share with you one of my favourites: couscous and fresh rocket salad.
It's a super refreshing salad and the bitterness of the rocket (arugula) leaves contrasts beautifully with the sweetness of the capsicum (peppers), cucumber and tomato. Above all it is an easy and quick salad to make. I recommend it not only because it is very healthy but because it's delicious, too, and perfect for this hot summer weather.
I hope you enjoy this lovely Mediterranean-inspired salad :)
Preparation
Heat 200 ml vegetable stock in a medium saucepan with salt and a teaspoon or so of olive oil.
When it comes to a boil, remove the saucepan from the heat and add the couscous to the broth. Let sit and expand two or three minutes.
Add a little more olive oil and stir gently with a fork or spoon to loosen and separate the grains. Let cool.
Wash and chop the vegetables (tomato, capsicum, and cucumber) into small chunks. Chop the rocket leaves as well.
Mix everything in a large salad bowl, and dress with extra virgin olive oil and salt if desired.
Tips from the author
To avoid lumpy couscous and get soft, separated grains, watch the video below for my trick to perfect couscous.
Related salads chosen by others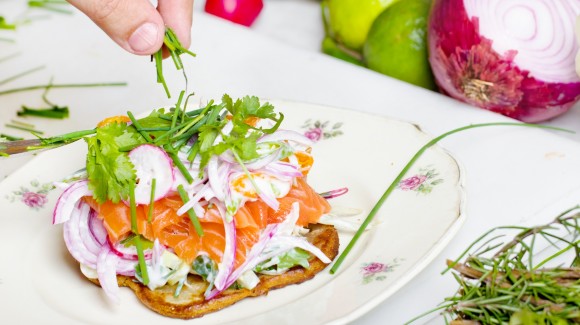 Waffle with salmon, avocado and red onion salad
Average 3 of 5 stars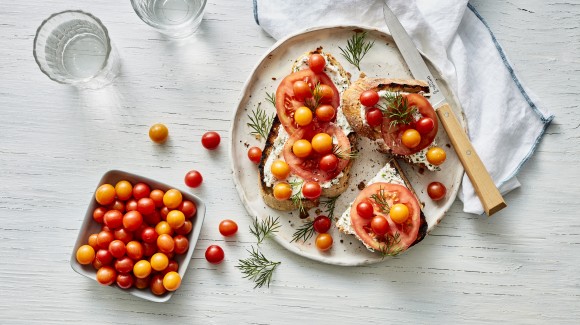 Tiny Toms bruschetta
Average 3 of 5 stars
Fruit salad from Jamaica
Average 3 of 5 stars