The traditional Waldorf salad is a classic summer staple and a sure crowd pleaser, packed with sweetness and crunch. It's made of fresh apple, celery and walnuts, and in this recipe, Salanova® Crispy lettuce creates a great textured and tasty bed for the rest of the ingredients.
The first Waldorf salad was created in New York in the late 1800s. According to the American Century Cookbook, it was made by Oscar Tschirky, the maître d'hôtel of the Waldorf Astoria – hence its apt name. The original recipe consisted only of diced red skinned apples, celery, and mayonnaise.
When choosing the best apple for a Waldorf salad, you'll want something that's crunchy with a tart flavour and relatively resistant to browning. We recommend Pink Lady, Granny Smith, Golden Delicious or Gala apples. A combination of apples would also be delicious.
Preparation
Slice the celery lengthways, then into 4cm long sticks. Remove the apple's core and also cut the apple into thin sticks. Slice the chicken.
Heat a frying pan and roast the walnuts for three minutes. Remove from pan, cool and chop roughly.
Whisk the mayonnaise, lemon juice, mustard and honey until well combined. Season to taste with salt and pepper.
Remove the bottom of the lettuce head with one straight cut: the Salanova One Cut, ready principle. Wash and dry the leaves (if desired, cut into smaller pieces) and toss in a large bowl.
Mix with the celery, apple and chicken. Scatter the walnuts and raisins over the salad. Drizzle with the dressing
Tips from the author
If you prefer to use fresh chicken with your salad, grill the chicken on the barbecue then slice and serve alongside your salad – the heat of the chicken will cause the lettuce to wilt if it's mixed through.
If you prefer a vegetarian salad, you can leave the chicken out and this will still be a wholesome and healthy meal.
You can substitute mayonnaise for yoghurt. To offset the tartness of the yoghurt, add a little honey.
Related salads chosen by others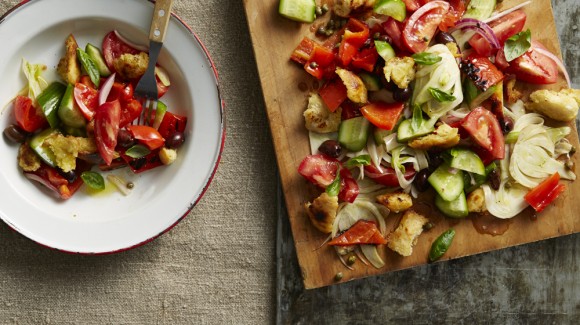 Classic tomato panzanella
Average 3 of 5 stars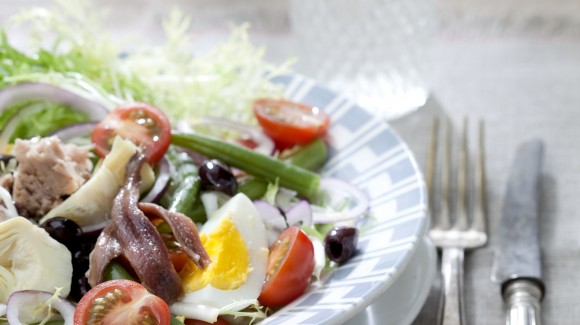 Niçoise Salad
Average 3 of 5 stars
Witlof salad with apple and walnuts
Average 3 of 5 stars