Breathe new life into the classic Caesar salad by substituting endive instead of lettuce and adding extra flavour with grilled bell pepper. Enjoy a new taste experience based on the authentic recipe.
Preparation
Cut the bread into bite-size cubes. Put into a large pan, drizzle with some olive oil, then mix with your hands until everything is equally coated.
Roast over medium heat until the bread have become crisp. Remove from pan and set aside.
If using a gas grill, preheat burners on high, covered, 10 minutes, then reduce heat to moderately high. Lay the bell pepper on its side on lightly oiled grill rack and roast, turning occasionally with tongs, until skin is blackened, 10 to 12 minutes.
Remove peppers from grill; either leave in chunks or slice into 1/2-inch-wide strips.
Boil eggs in 8 minutes, shell and cut in quarters.
Chop the the endive into 1-2 cm strips. Then wash the endive, then spin dry. Set aside.
Prepare the dressing: Combine olive oil, white wine vinegar and mayonnaise, mixing well.
Serve the endive on plates, drizzle two or three tablespoons of the dressing over each plate. And divide eggs, anchovies, chopped onion, bell pepper and shaved Parmesan over the plates.
Tips from the author
Related salads chosen by others
Celery and prawn salad
Average 3 of 5 stars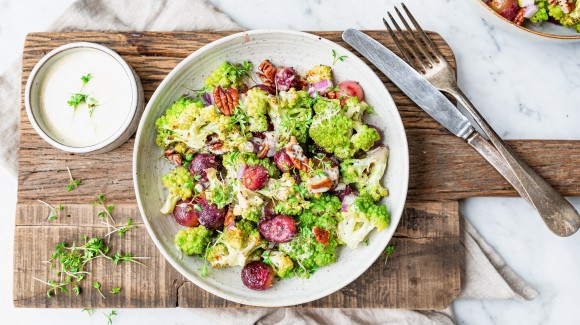 Salad of grilled Romanesco and grapes
Average 3 of 5 stars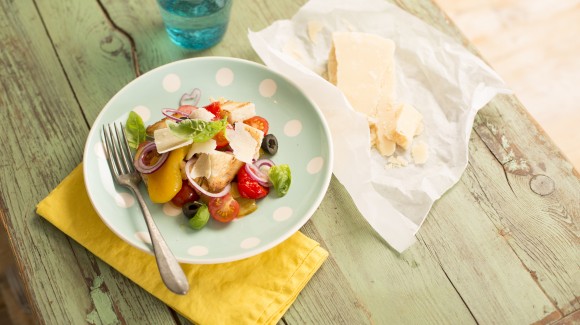 Panzanella - Tuscan tomato and bread salad
Average 3 of 5 stars