Cabbage has a fine and delicate flavour, perfect for a light and healthy meal for during the week. Enjoy this dish, and if you want something vegetarian, simply leave out the chicken or substitute tofu.
Preparation
Season the chicken strips with salt, pepper and curry, and lightly pan fry until cooked through. Remove from pan.
Cut cabbage in half lengthwise and cut out the stem wedge. Cut cabbage leaves into strips 1 cm wide and salt.
Heat butter or oil in a pan. Peel the onion, cut into small cubes and add to the frying pan together with the rosemary and bay leaf.
Wash and chop capsicums into small pieces and add to the pan. Add cabbage and let stew over medium heat for 5 minutes. Season with pepper, sugar and lemon juice and continue cooking for 8 minutes. Remove from heat.
Cut cherry tomatoes in half, add to dish, and season with cayenne pepper or chili to taste.
Serve with chicken and, if desired, boiled potatoes.
Tips from the author
Cabbage prepared this way is very easy to digest, and the braising brings out its natural sweetness.
Related salads chosen by others
Avocado salad with shrimps and peppers
Average 3 of 5 stars
5 minute fresh tomato salad
Average 3 of 5 stars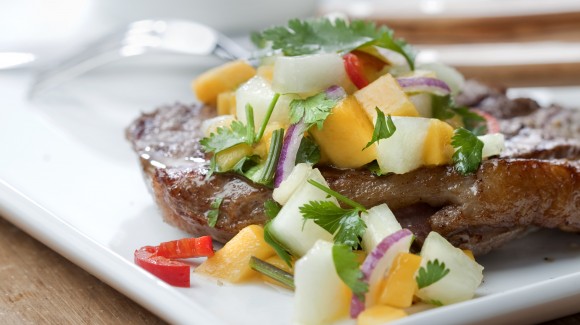 Chilean spicy melon-mango salsa
Average 3 of 5 stars