This baby spinach salad with celeriac and feta is sweet, salty, crunchy and creamy all at once. And it's packed with plenty of vitamins and minerals, so you're giving your body as well as your taste buds a treat. It was so deliciously good, that I just had to share it!
Preparation
Slice across prosciutto into ½ ribbons. Fry in hot oil for 45-60 sec or until crunchy. Remove from pan and drain. Generously layer plate with grated celeriac. Plan spinach leaves on celeriac. Add slices of capsicum and prosciutto. Add slices of tomatoes as required. Add crumbled feta cheese. Sprinkle a small amount of grated celeriac over the salad, and chopped parsley over plate.
Dressing: Mix herbs, lemon juice, garlic and mustard in blender – drizzle in oil while blending Mix in white wine vinegar (amount for taste/consistency) Drizzle Salad with Herb Dressing just prior to serving.
Tips from the author
Tips: Be extra vigilant when cooking the prosciutto. It only takes a few seconds to go from just right, to a blackened disaster. I'm pretty fastidious in the kitchen, so I enjoy a bit of a challenge. But if you want to cheat, or simply save a bit of time, you can buy pre-roasted capsicum rather than cooking your own. Go sparingly with the herb dressing – it tastes absolutely divine, but you don't want to knock out all the other delicious flavours by going too heavy. Drizzle it over the top, and add more later if you fancy. This salad serves 4 on a big plate to share.
Related salads chosen by others
Cabbage salad with apricots and almonds
Average 3 of 5 stars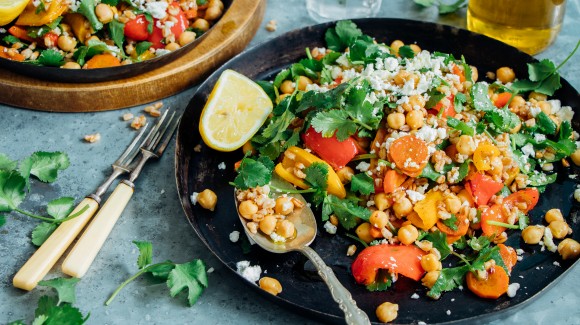 Easy take-away lunch salad with spelt, roasted vegetables from the oven, chickpeas, coriander and feta
Average 3 of 5 stars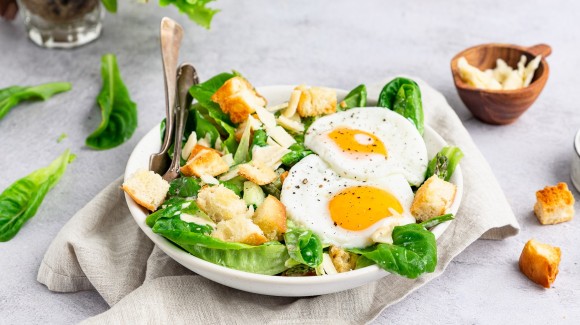 Caesar salad with a twist
Average 3 of 5 stars