The intention was to make this lentil salad with a smoked paprika dressing. I made it a while ago when I was on vacation in Ibiza, enjoying a week of spring sunshine and the tranquility this magical island offers. I discovered an organic farm and treated myself to a vegetable crate containing enough for a family of four. As I was on my own, I had an abundance of vegetables to nibble away on ;-). And I did a thorough job of getting through them in a week. It felt so good to prepare myself a healthy dinner each evening in my casita.
Especially as I breakfasted on the likes of croissants and empanadas twice each morning and treated myself to a three-course lunch almost daily. So, I'm sure you can understand my need for vegetables.
But I digress, so let's return to the lentil salad. In Ibiza, I ended up making a variant of the recipe. While I was preparing the salad, I caught sight of a bottle of soy sauce and decided to shake things up by making a fresh Asian dressing with soy sauce, lime juice, coconut blossom sugar, ginger, and garlic. That turned out to be a hit. The dressing combined with the lentils and the vegetables made for a superb salad!
Preparation
Cook the lentils as indicated on the packaging. Drain well and let cool.
Make the dressing by mixing the soy sauce, olive oil, coconut blossom sugar, lime juice, garlic, and ginger. Taste and, if necessary, add some extra lime juice, soy sauce, or sugar.
Place in the fridge until needed.
Roast the sesame seeds in a dry frying pan until they turn light brown. Leave to cool briefly.
Next prepare the lentil salad by mixing the lentils with soybeans, avocado, and radish slices. Add the dressing and most of the sesame seeds.
Spoon the lentil salad onto the plates, garnish with the remaining sesame seeds and trimmed cress.
Related salads chosen by others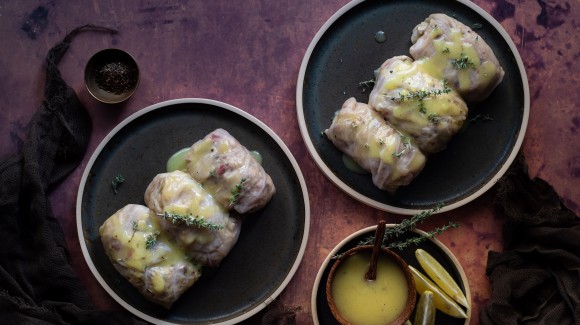 Stuffed cabbage rolls with shiitake mushrooms and rice
Average 3 of 5 stars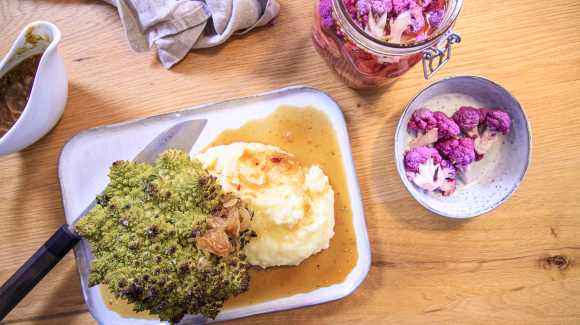 Vegan Sunday Roast with Romanesco, purple cauliflower pickles and fried onion gravy
Average 3 of 5 stars
Lebanese green beans
Average 3 of 5 stars