The super-simple green salad formula everyone should know
Green salads are the perfect antidote to a heavy main meal. For a successful green salad you want to get the balance right. Do this and your green salads will easily steal the spotlight away from the main dish or round out your meal in style. Read on to learn the fun way to make green salads by following a simple formula. It's guaranteed to work every time.
In the New York Times bestseller, Ratio: The Simple Codes Behind the Craft of Everyday Cooking, Michael Rulhman breaks apart the complex science of cooking into a series of formulas and ratios. He argues that by understanding how basic ingredients and textures work together, learning to cook becomes simplified.

When you dine out at a restaurant, you often taste the end result without thinking about the process that came before. It's easy to forget your delicious meal on the table is underpinned by intricate flavour design and cooking formulas. It could be a sensational balance of starches, protein, fresh vegetables and spices that strikes you. Or maybe it's a magical mixture of colour, taste and texture that defines your experience.
How about when you go to a cocktail bar and order off the menu? Top qualified bartenders understand formula like a fine art. So when challenged with shaking up something fresh and exciting, they can create with a free-flowing energy, knowing the final product will hit the right notes, stimulate your senses and explode with energy. It's a process of learned ratios combined with a touch of wizardry.
You need to know that this process is transferrable to making a green salad. That's why if you want to make impressive salads, you need to be a master of formula. Become intuitive in the kitchen and you won't need to rely on restaurants or follow a carefully crafted recipe to experience amazing food. Which means you will save time and money, gain confidence in your skills, and pull off next-level salads with finesse.
So here's the simple green salad formula I use all the time. It's a saving grace on the days where all I have to work with are a tin of beans, some spinach and a soft zucchini. Sometimes if I still feel uninspired, I adopt the mindset of a creative mixologist. By pretending to be a charismatic bartender whipping up a salad for my guests, cooking becomes playful and fun.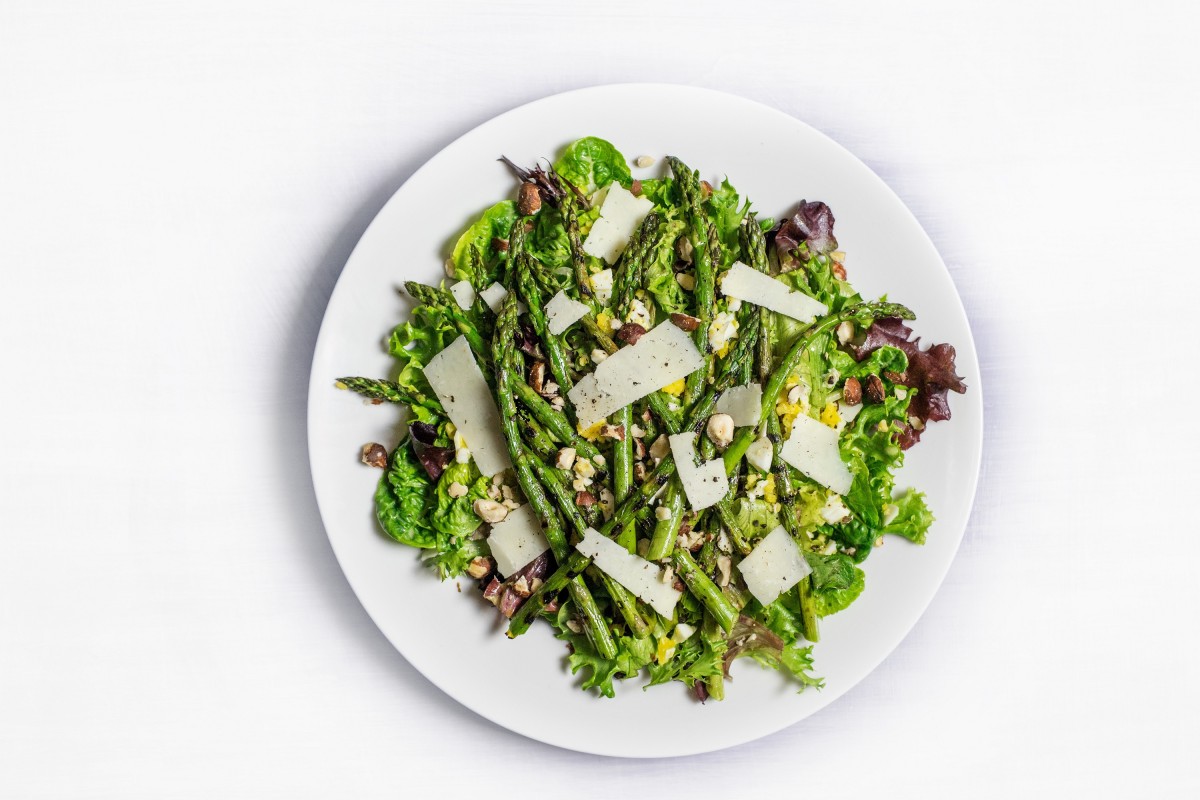 The formula for a perfect green salad
Green Salad = leafy greens + crunchy greens + something different + vinaigrette
Choose leafy greens as the foundation.
The best green salads are built from a lush green foundation and there's a wide variety to choose from. Butter lettuce, crunchy cos, rocket, kale and spinach are just some of your options. The trick is to choose greens that pair with your salad ingredients: sharp tasting rocket leaves match well with sweet fruits like pear and orange, a sweet butter lettuce loves a tangy vinaigrette, and baby spinach leaves work well with forest fruits like blueberries and raspberries. Or why not mix things up by combining two or more of your favourite leaves?
Crunchy greens bring dynamic texture.
Think about how the salad will feel in your mouth with every bite. The texture you want combines softness with superior crunch. The more varied the textures, the more exciting your salad becomes. To achieve this, choose fresh, crunchy vegetables to throw on top of your leafy greens. Here are some of my favourites:
Combine fresh snow peas with grilled asparagus and sliced radish for a spring sensation.
Fiery char-grilled zucchini and crunchy broccolini (lightly grilled).
A garden-inspired selection combining sticks of cucumber with thinly sliced red cabbage and radish.
Something different
This is where you make your personal trademark. By adding one unique ingredient, you create an elevated point of difference in your salad. It's the secret ingredient that brings your salad to life and it gets people talking and asking questions. Typically, items like roasted nuts, soft cheeses or olives work well in this section. But here are a few ideas you may not have considered:
Pomegranate seeds and mint – to hit the sweet spot of tart, sweet and aromatic in you salad.
Peach wedges and mint — add a squeeze of lime juice for a bubbly summer combo that tastes like a peach mojito.
Crispy chickpeas with lime and paprika – An irrisistable way to get some protein in your salad bowl. Recipe here.
Grilled avocado— brush with olive oil and place a halved avocado on the grill for two minutes. It's a next-level way to experience this supreme ingredient. A squeeze of lemon will break up the smokiness.
The vinaigrette ratio you can't do without
Want to whip up a dressing in seconds? This is the ratio you need to learn. Shake up three parts olive oil to one part vinegar in a jar, a simple 3:1. Then spice it up however you wish. Maybe a squeeze of lime juice, some finely chopped ginger, fresh chilli, garlic, wasabi or a spoonful of your favourite mustard. If you prefer a hint of sweetness, just add 1/2 teaspoon of honey or brown sugar. Season to taste with salt and pepper.
Experiment with this formula to create a knockout salad that showcases your authentic taste. Alternatively, try one of these recipes that get the formula just right.
If you have a green salad of your own you'd like to share on Love my Salad — send us an email info@lovemysalad.com