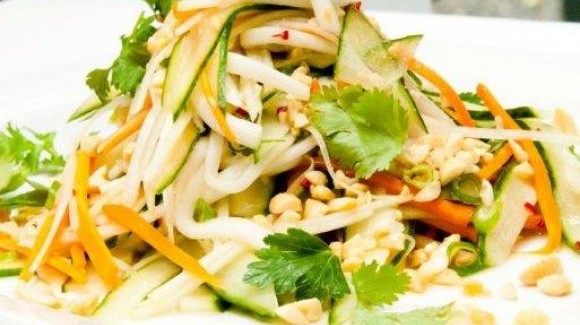 This salad has been added by
Richard Mee
(Chef / restaurant)
Upload your salad
Ingredients
1 continental cucumber (sliced)
40g radish (2 or 3 sliced)
40g carrot (1 carrot)
20g paw-paw (papaya)
1 spring onion (or shallot)
1 bunch coriander
30g toasted peanuts
Pickle ingredients: 50g sugar; 50g white vinegar; pinch of salt.
Dressing ingredients
Juice of 1 lime
25 ml fish sauce
1 birds eye chili (small hot red pepper)
30g palm sugar
30ml peanut oil
Preparation
Pickle carrot and radish. Julienne radish and carrot, add sugar, vinegar and salt. Allow to sit for at least 2 hours. Drain liquid.
Dressing Preparation:
Finely chop bird's eye chili and add to lime juice. Combine fish sauce together with palm sugar and peanut oil, mix well. Mix all together.
Salad preparation:
Julienne sliced cucumber, green pawpaw and spring onion. Crush toasted peanuts, pick desired amount of coriander leaves. Mix all vegetables together and add the chili lime dressing.
Additional information
Plan this salad ahead of time if you want to make your own pickled vegetables.