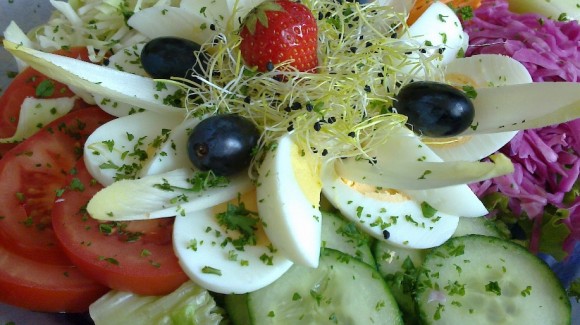 This salad has been added by
Steven Roberts
(Salad blogger / food writer)
Upload your salad
Ingredients
1 cup shredded red cabbage
1 cup shredded white cabbage
1 cup grated carrot
green oak lettuce leaves
1 cucumber sliced
4 hard boiled eggs (quartered)
Black olives
1 head witlof
2 -3 tomatoes sliced
Dressing ingredients
1/4 cup olive oil
2 tablespoons of white wine vinegar
1 small clove of garlic
salt and pepper to taste
Preparation
Starting with a layer of lettuce leaves on individual large plates, simply arrange all the other ingredients on the plate and top with some black olives and witlof leaves. Just before serving pour the dressing over the top. Dressing: In a blender, combine the dressing ingredients for about 10 seconds To be more traditional, this salad can be served with boiled chat potatoes with a dollop of sour cream. Other options are to add sliced ham, some pickled onions or gherkins. You can also enjoy with a nice slice of homestyle bread.
Additional information
A salad for 4 to enjoy and share.