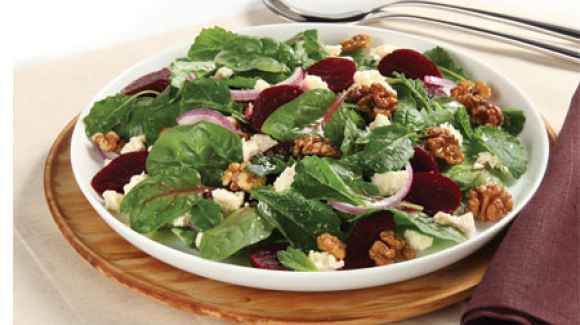 Upload your salad
Ingredients
600g small beetroot, trimmed of stalks
1 red onion
150g walnuts
130g krispkut™ Winter Salad
200g feta cheese
Dressing ingredients
2 tablespoons orange juice vinegar
half a teaspoon salt
quarter of a teaspoon ground pepper
4 tablespoons olive oil
Preparation
Heat the oven to 180C.
Place the unpeeled beetroot on a baking try and bake until tender when a knife is pushed through, about 30 minutes for baby beets 45 minutes for small.
Remove the beetroot from the oven, cool and peel. The skin should come away easily in your fingers. Trim the ends and discard. Cut the beetroot in half if necessary and toss with a little of the dressing. Set aside. Slice the onion very finely and place in a bowl of ice water for 10 minutes. Drain well.
Heat a frying pan and toast the walnuts for a couple of minutes until browned.
Dressing:
Combine the orange juice, salt and pepper in a small bowl and whisk in the olive oil.
To serve:
Arrange the winter salad mix leaves of spinach and kale, on a platter and top with the beetroot, onion, walnuts and crumble over the feta cheese. Drizzle over the remaining dressing.
Serves 4
Additional information
This recipe was provided by Snap Fresh Foods, New Zealand